Charlotte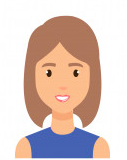 I had only a basic level of French when I began studying with Elodie. Of all the language teachers I have had, she is one of the best. I have quickly progressed from a beginner level to an advanced intermediate level. Elodie is incredibly flexible with her scheduling. I take lessons in person while in France and via Skype while in the US. This has allowed me to maintain a consistent learning schedule but also to experience many cultural nuances. Elodie is incredibly well read and is able to discuss virtually any topic which makes for some very interesting learning sessions and goes way beyond learning to ask directions and order in a restaurant. In short, she teaches you to live in French. I recommend her highly for any level and any age group. Her teaching methods are exellent and yeild excellent results. If I had any complaint it would be that she is teaching me so well that I may not need lessons for much longer. But if and when I arrive at that point, I will consider her a dear friend and mentor.
You like student review and want to become also my student ? 
Interesting to my courses and my learning method ?