Alessia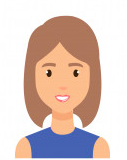 Elodie is a great teacher and a wonderful woman. I had the pleasure to know her personally and to study with her in the small and super friendly classroom in Mormoiron before the lockdown and, after that, on Zoom during the quarantine. She has been my first friend in France and thanks to her I managed to get a good level of French in a few months. Her teaching method is excellent, very personalized, funny and effective. I feel very lucky to have met Elodie in my life because my experience in France would not have been so beautiful if I had not shared it with her. Thank you so much for everything, Elodie.
You like student review and want to become also my student ? 
Interesting to my courses and my learning method ?